Trees are the longest living organisms on the planet and one of the earth's greatest natural resources. Despite their importance, we cut down 15 billion trees a year.
With our partner Eden Reforestation Projects, we plant 50% of trees across the world in Haiti, Honduras, Indonesia, Kenya, Madagascar, and Mozambique. The other 50% will be planted in Nepal.
Reduce the overall Carbon footprint supporting Rimba Raya Reserve. The organisation meets all 17 Sustainable Development Goals, provides carbon credit for ease of offer, income streams for micro-financing to support conservation and protects forests, etc.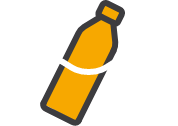 Up to 12.7 million tonnes of plastic enters our oceans every year, with a total estimated 150 million tons of plastic currently in our oceans. Currently only 7% of used plastic gets recycled.
Secondlife.earth helps organisations kickstart circular plastic supply chains that clean oceans.